It seems like even at a tender age (0yrs, -2mth,which translate to 34 wks...) My daughter has a penchant to ensure that her parents are not overtly
complacent
and that we are always operationally ready, she decided to give both of us a little scare.
On last Thursday, while her mother was on her way to work, she felt that the little rascal was not moving in her safe cocoon. upon reaching her work place, instead of taking the lift to the office, she took the bus to KK.
They hook her up to a CTG (do not ask me what it is... I have no idea..) and found that her heart beat was rather erratic.... After about 2 hours, they decided to ward the mother and the baby for further observation (Duh... try warding the mother or the baby.....) Thanks to the bug flu... They did not get her a ward until I reached the hospital (Short stop over home to grab her admission bag) and had lunch with her...
Thanks to the bed shortage, she got a free upgrade to a A1 bed for the night. Which I guess is consolation for her not able to attend her company D&D. I had to go off for my driving test and only to get back to the hospital after.... It was quite challenging to get into the hospital after 9 and having to negotiate all the strange accesses into the building.... But heck... I managed to play with the lift and reach her ward....
We were rather optimistic that she should be able to discharge after a night's rest but alas, the baby decided that she be the center of care and stayed back for another day...And that my wife finds that the hospital food is much better than the food court fare
Her colleagues visited her on Friday, they were rather nice and brought a basket of chicken essence for her.. Mother also popped by after work and we went back together.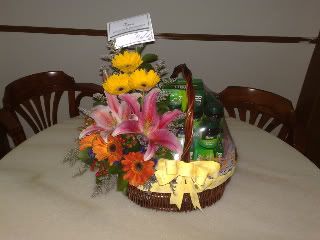 On Sat, her gynae popped by in the morning and given her the all clear for discharge... I guess the baby decided that her dad is too tired for another day of shuttling and decided to be a good girl.....This time, I get to witness the food first hand, and it is rather decent, better than the Delifrance Fish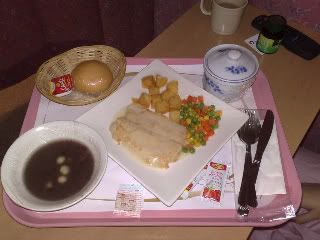 My wife got another pleasant surprise, the doctor gave her 17 days of rest... which means 2 weeks of solid resting at home.. yipee... the nurse was very nice and helped out quite a fair bit for the discharge.
It is then home sweet home for all of us and hopefully that the next time my wife is going to be warded will be the actuall delivery...in a month's time
But basically... I do have a feeling that our little girl may be a little drama queen in the making and turns out to be like her