It was a friday night after a heavy buffet with CQ and James...
We arrived home at about 11 and that Its my turn to the shower after my wife....
Halfway through, she came into the bathroom and told me that her waterbag has burst.
Finishing my shower and packing up a few item, we rushed down to the hospital... knowing that this is probably it.. what we had been waiting for 9 months has culminated to this..
At the hospital, the table was probably the only thing separate me and the strangulation of a slow and imperturbable nurse who is doing all the registration and question in first gear. We got the delivery suite ready and she was officially warded.
My wife had amazing pain threshold and that throughout the night, it was the chart that tells me that she was in contraction.
In the morning, knowing that I will not want to be stuck in breakfast while my wife is in labor, I had to rush down at 6 then 7 for my breakfast.
it was nothing more than eggs in a cup which I gobbled down in 1 quick gulp and 2 toast with a hot coffee, which I brought it into the delivery room.
It is now that the contraction started to be more painful and that I will need to start to soothe her as it progress. I still managed to get the video cam out, soothe her while finishing my breakfast...
The doctor arrived on the spot and remarked dryly that she cancelled our appointment at the clinic and now, at the appointed time, she has to come to perform the delivery... I don't blame her, the whole timing is so impeccable that I will have a 5 days rest and that we saved 1 appointment with the doctor... what was even more amazing was that, on the exact time she arrived into the world...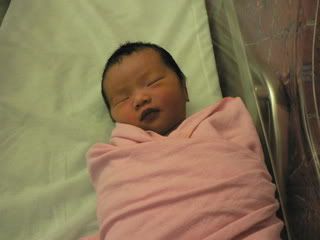 After 2 nights stay at the ward and winning the shouting match in the nursey despite the fact that she is the smallest kid there, she is now happily sleeping in her own bed after a full hour of feeding, which she wanted more after.
How she will turn out and what she may accomplish in life, I do not know yet;
All I know is that, this little bundle of joy will now change my entire household and probably how I look and deal with the world from hence forth